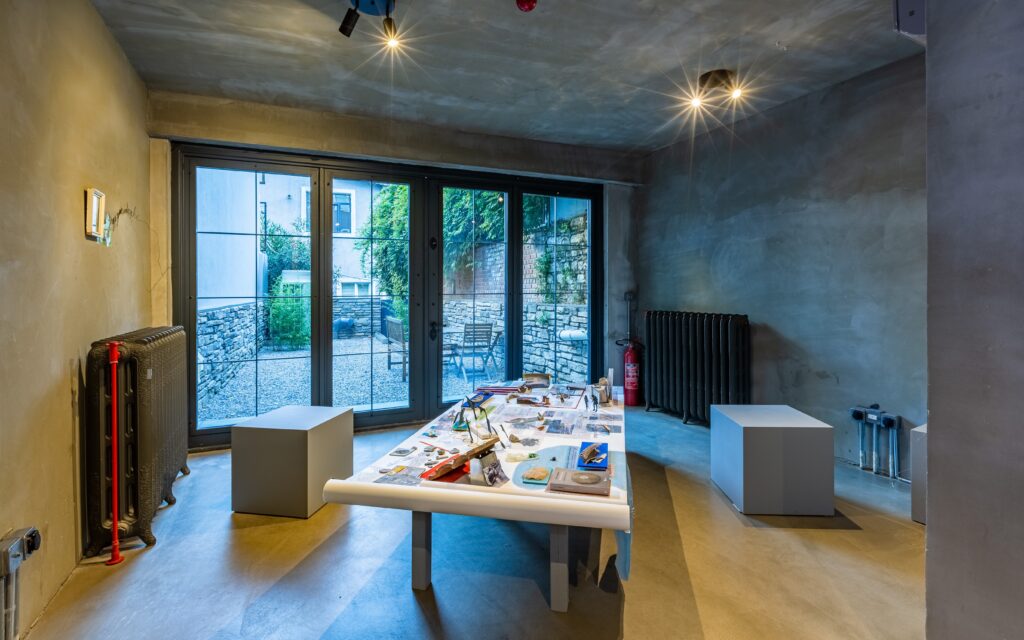 "A SENSITIVE SOUND" IN PUBLIC
"Dictionary of Sensitive Sounds" unfolds through different scopes during the 17th Istanbul Biennial. "Where to place which sound description" stands out on our evolving installation at Performistanbul. This specific part of our installation is a low platform, "a thinking table" where Elif Öner and Evrim Kavcar have placed sketches, found objects, notes and little hand-made sculptures. Taking the evolving archive of sound descriptions as their basis, they have returned to where these sounds originate from, or how these sounds might connect to different spots in the city.
This is an installation where they start to imagine some public interventions; or rather artistic interventions in public space. Sometimes a description calls for a space, and sometimes a space calls for a specific sound. Under a specific tree in Gezi Park, in between the biennial venues around Istanbul, they follow memories of these places and link them with the memory of the sounds present in the dictionary. The entries in the dictionary had started with Elif and Evrim describing "sensitive" sounds to each other, yet in time the work opened up and expanded to the public, to many participants who contributed their own sound descriptions. Our prospective installation of these texts in public spaces is also an expression of our gratitude for our participants. Many people living in different places have shared their "sensitive sound" with us, and now the idea of them meeting these sounds in different forms in the public space is a meaningful and exciting thought.And now we work on: Which sound description? Where to place? Which material? Scale? Which font?
The installation can be visited at the 17th Istanbul Biennial until 20th November as part of "Dictionary of Sensitive Sounds", the evolving work of Elif Öner & Evrim Kavcar. For directions:
https://bienal.iksv.org/tr/17-bienal-mekanlar/performistanbul